Fun in the Snow Sun! --Stinchfield Loppet 2016
February 29, 2016
We were nervous before the Stinch Loppet this year. We had a 10" base but a couple days of 40 deg's leading into the event, with 50+ forecast for the day-of... Whew! What's THAT going to be like?

Well, weren't we surprised! We had a blast! Our skis worked great! The sun was out. So were our t-shirts and shorts. And the kickin' and glidin' didn't let us down. Stinch holds snow better than anywhere around!

We note that Stinch has the biggest ski hills in the region. Between it and the Poto Trail we're pegging the meter for hills, challenge and scenery. And, I always have to note, hardly any of the hardcore XC skiers use these trails anymore. I think we should step up our PR for them even more. Maybe add a Stinch Raid to the Poto Raid line-up. ...So that we can have two awesome downstate ski races that skiers won't race. (Mtbikers seem to "get" it, tho. Even tho most skiers are also mtbikers. Weird!)

Part of our story is outdoor antics with a multicultural twist -- good food goes with Max VO2. We're getting close! Hmm, I think I need to bring out a higher quality of white wine. That's important. Sure, it's worth spending money on carbon poles and fluoro waxes, but don't skimp on your wine quality.

I hope that folks didn't mind my fannypack boombox. We can do a wider range of DJing, as need be. Or, it can be like a Bike Party where if you don't like the tunes you just drift further back or go off the front. (In our Bike Parties we'll have multiple music clubs so riders can pick the vibes they like. Maybe we'll get there for skiing!)

I really like our No-Drop style of Hilltop wait-ups. We stayed together really well this year. It might make sense sometime to find alt-routes to point folks to, to better match their druthers, which also end up at the same places. Stinch is quite a web. I'll need to bring a good map. I lose track of where I am! (This could also be a method for other trails and for bike rides.)

I think fluoro waxes are dandy for touring. Racers aren't the only folks who love fast skis that work great! You don't need it all the time, but if it's gonna be sticky you can turn your skis into rockets by waxing even your nowaxers in the newstyle way. (Nowaxers still need glidewax on the tips'n'tails!) Fluoros cause water to be repelled from your bases bigtime. So what if it's expensive. Use it now'n'then and it'll last. What's an extra $10, say, for a more rockin' glorious time where the miracle machine gets turned on? Downstate MI tends to be a warm snow zone. Let's optimize that and embrace it!

Get out your rillers, too! I use a file held on edge. Seems to work. Breaks up the suction of wet snow.

It felt like my skis were happier by far than they usually are in the sticky stuff.

So 25 skiers showed up. That's a lot of faith!

We skied for a couple hours of no-drop fun with everyone waiting for everyone at the tops of the big uphills.

Stinch is now the home of the Peach Mountain Division of ski freaks.

We hit a good 4 big uphill climbs hard and took a breather at the top of each. We also took breaks at scenic overlooks. Nuthin wrong with standing around chatting in the sun and 45deg!

Stinch has several more hills you can relish in colder snowier conditions, making for, like, 7 or 8 hills that are about a half-mile in length, winding, with changing pitches. Awesome going both up and down.

Yesterday as the day warmed we ended up with translucent snow and oak leaves floating around in it. Picturesque bliss to us. We almost even had some flowing water in the trail at one point: Peach River!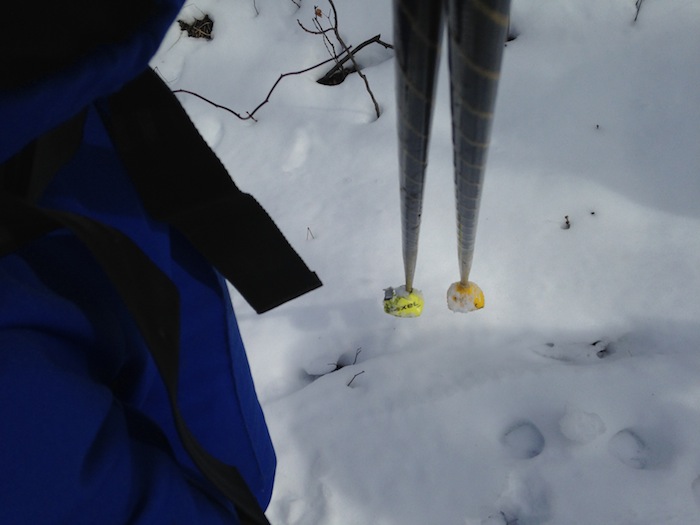 odd

a little strange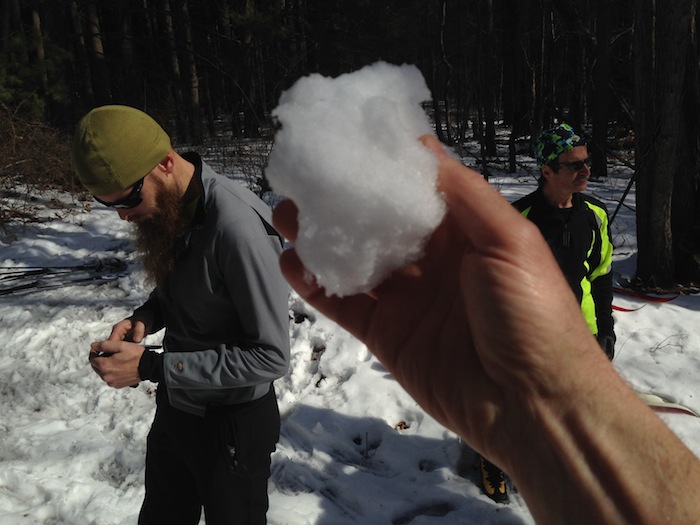 moist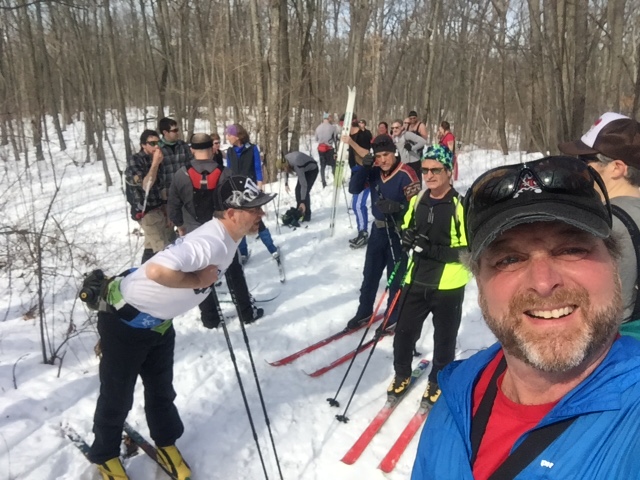 party time

up to the top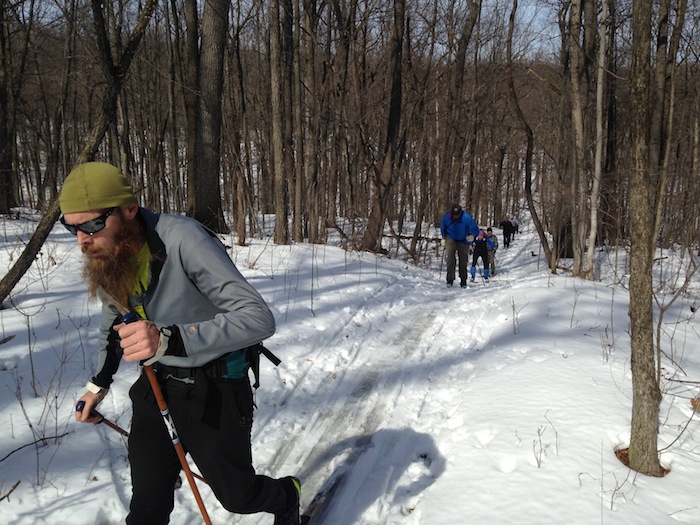 hustle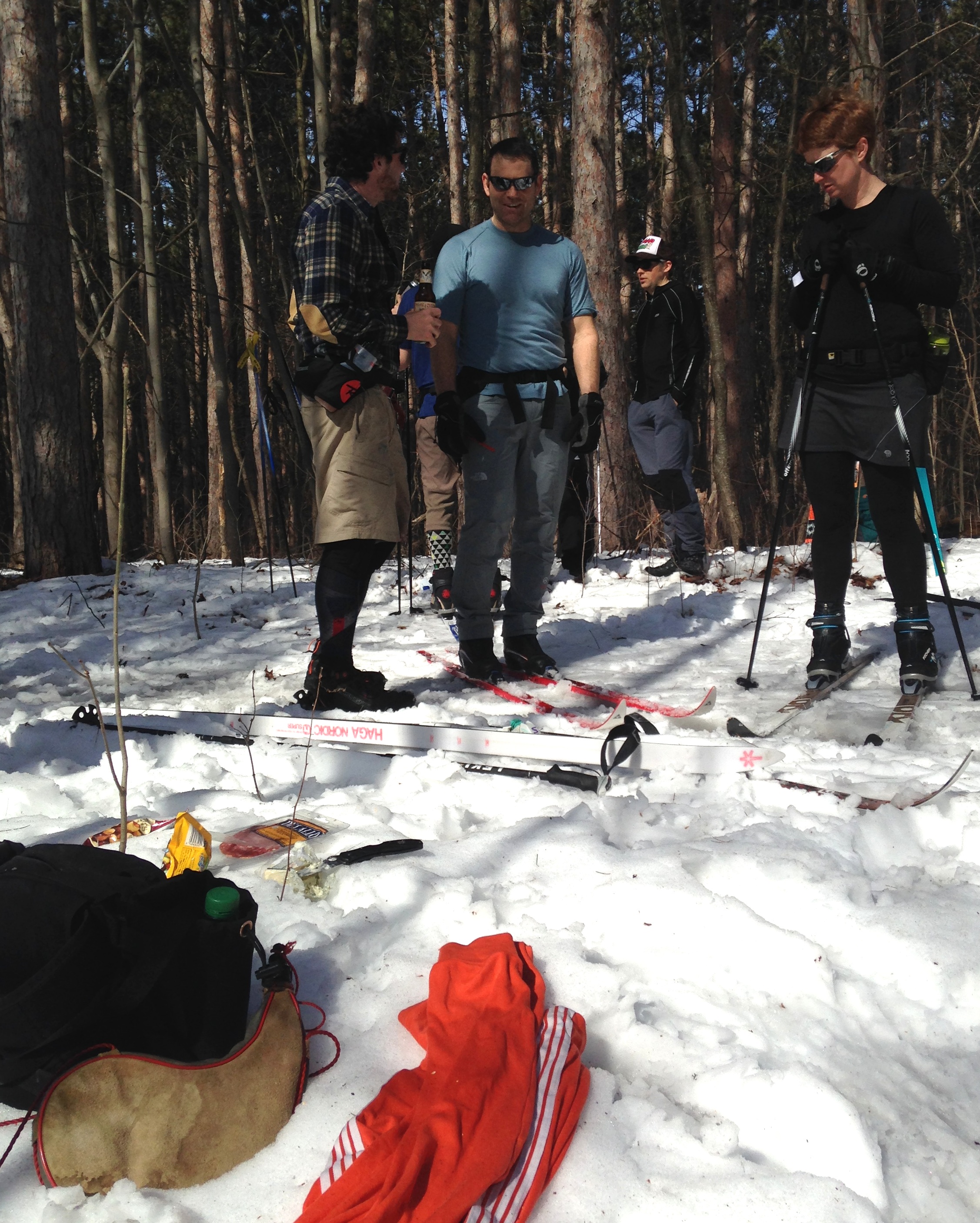 picnic stop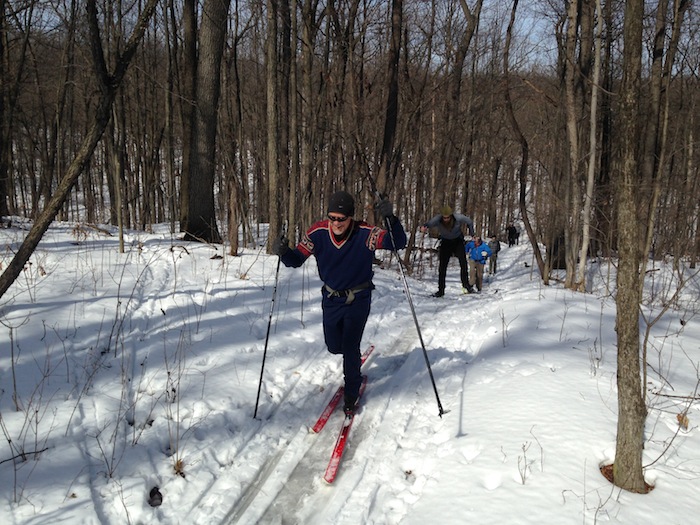 Bernie grabbing a dose of the Poto Shuffle.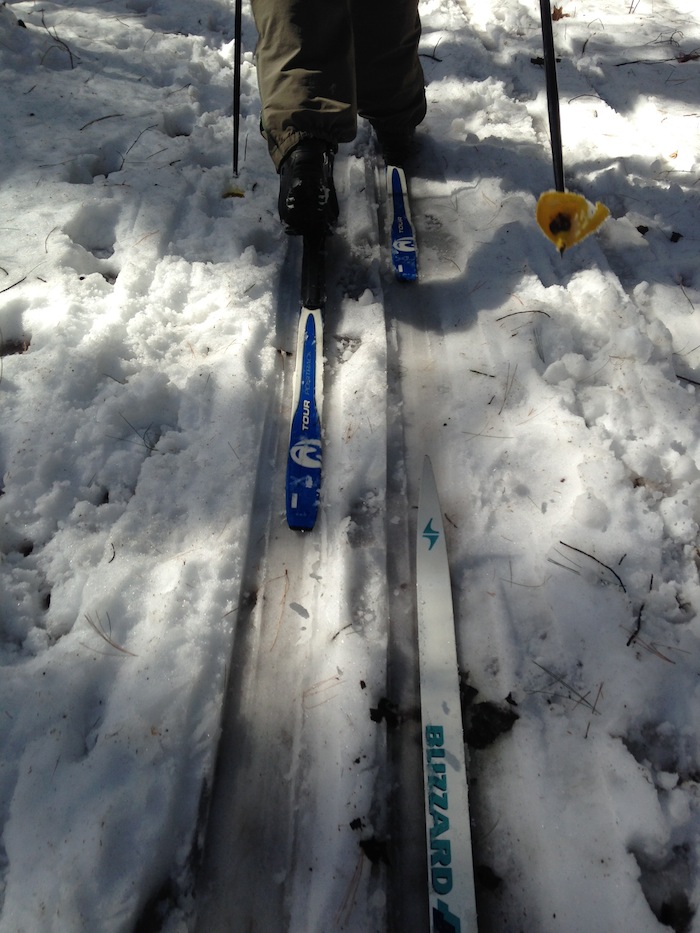 Conditions.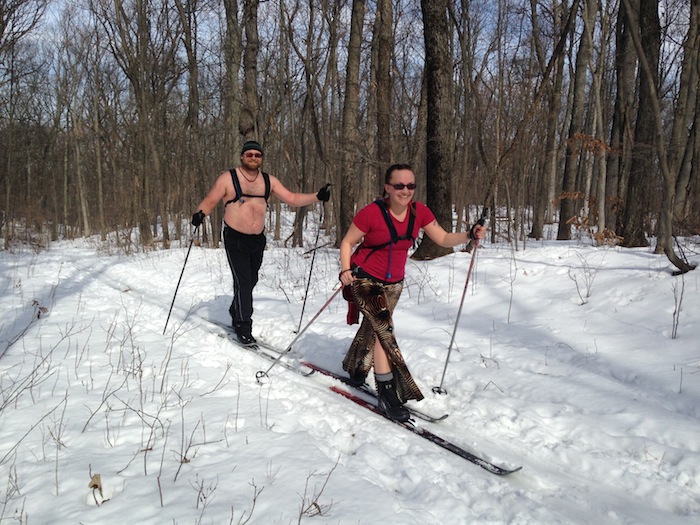 best dressed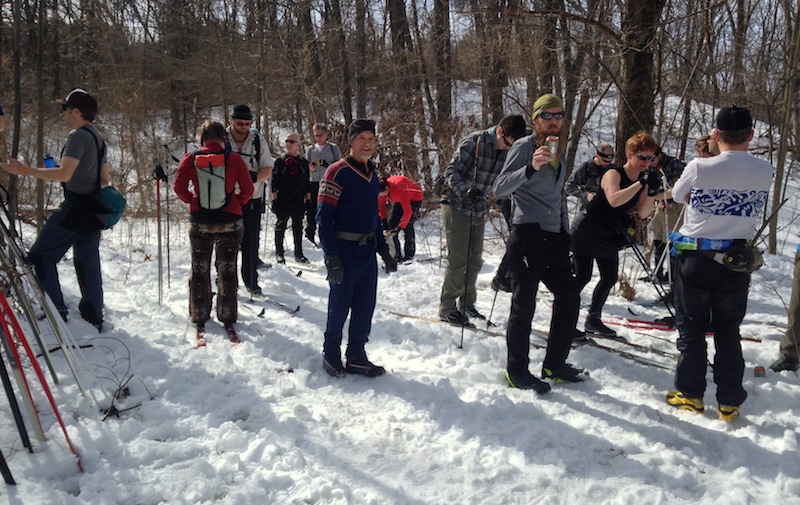 first break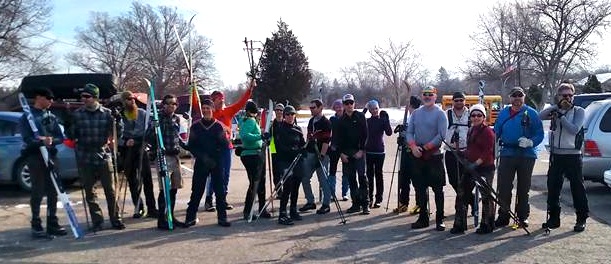 ready!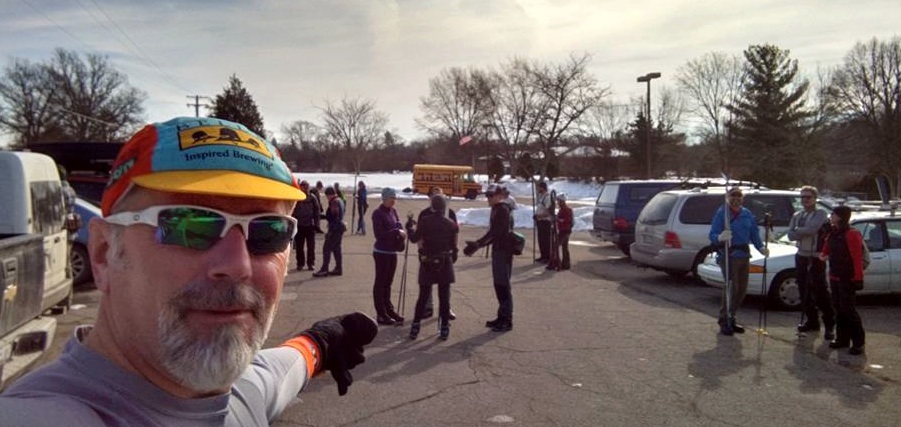 welcome to the show!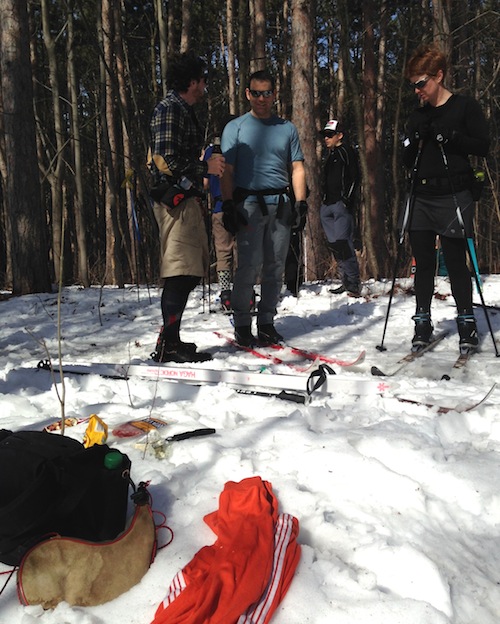 picnic stop -- tasty vittles spread in the snow -- soppressata, stinky cheese and white wine.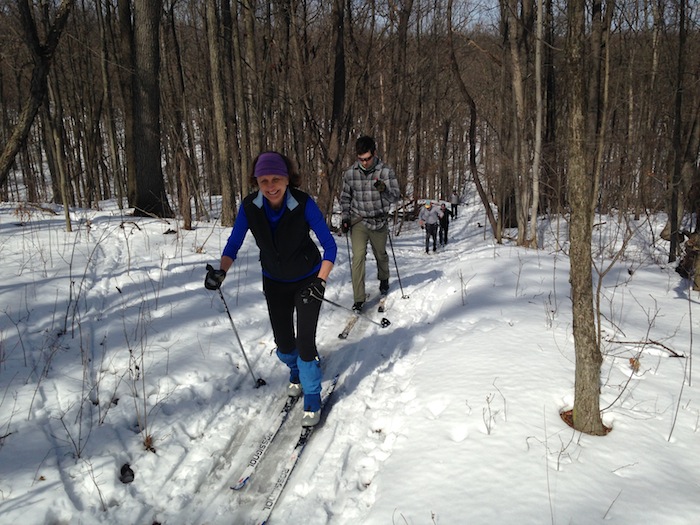 Cheryl using red klister for what it was made for! ...she was our only waxer of the day!