The Normalizing of Reality (Seasons R Us)
October 04, 2015
Sometimes my OYB quest makes me laugh. I enjoy trying to encourage folks to just get out there and have some fun. Every day. In the fresh air. Year 'round.

But why is this weird? Why do I even have to try to do it? How could it be otherwise?

Doesn't everybody need fresh air activity every day year 'round?

I mean, it MUST be necessary for health, right?

Any population that does NOT do it will be sick.

Can it be otherwise?

Won't a population that avoids its reality (living on Earth, living amid weather) also be twisted? I mean, if you have people who aren't doing simple fresh air things every day where they live, won't they be crazy? Probably kind of scary. Likely dangerous to the little things. To normal people.

I mean, bikes, boats and skis are the naturalest, simplest inventions we humans have for having fun outside year 'round. The only thing simpler is plain feet. Or swimming. And those things rock, too. You also have your gardening tools and your fish'n'game tools. That seems to cover the basic basics.

Bikes should be totally normal. Nearly everyone should ride them most of their lives.

Anywhere there's water there is naturally some kind of paddling. Or swimming. Can't get simpler.

If it gets cold where you live then you'll be needing skates and skis. Duh.

This should be the normal baseline.

...And it is everywhere that is sane.

Right?

Places that have lost their minds need help. Need to make a comeback of whatever kind. We all get forgetful. Bad influences abound. And none of this stuff is totally natural. It all needs teaching.

So there should be courses, classes, centers.

Or maybe it just needs people doing it that other people can see doing it so they can do it. Copying. Following each other around playing. It's no big thing.

I mean, you don't need to do any of it a lot. Just to get to the store. Or take a break, get some exercise, get outside, go meet up with some folks. An hour or so every day will do the trick.

Like, bikes are a perfect vehicle (pun both intended and not) for fashion, cargo, social connection ... and fun. All normal things. But you have to be someone who can HAVE fun or who wants to bridge gaps, to begin with. Yet bikes have largely been in custody in recent decades of bureaucratic type-A data-trackers who wouldn't confess to being much fun. So, for bikes to become normal they have to leapfrog many of today's self-identified bikers and get to folks who just say they want to try something new. THEN bikes will be supercharged on their way to normalcy. Bikes naturally help their riders get along with everyone. It takes a lot of backwards work to make bikes seem stand-offish or bickersome.

The Amsterdamize blog is big on the idea that a bike is the most normal thing. I like how it says US urban biking tends to fall into the grips of a "zealous Heath & Safety complex" which threatens to suck the life out of culture and replace it with stats and neon vests, replace cheery bell ringing with presumed hostility. They forget that defensive riding frees us up to no longer be negatively surprised, letting us relax as we roll, hair flying in the breeze.

I live in a state -- mid-Michigan -- where it's odd to ride your bike to a grocery store. It's odd to paddle a canoe. It's odd to ski on the snow and to skate on the ice. It's weird just to go for a walk to chat with friends. It's weird here to walk around the block after dinner: the way billions have done elsewhere for millenia. Literally.

Yet these are the most normal possible activities humans could do where we live!

Sigh. The torsion sometimes feels stronger than others.

What could we do to fix it all? Well, for one not-so-small thing: the new standards for indoor climates should be something like 70F in the summer and 65F in the winter. We need to totally get away from the idea of chilly indoor spaces in the summer and fake-toasty interiors in the winter. Of course, these are tools that marketers can easily use to compete. But they get bent and twisted: so that normal people have to wear coats when they go inside in the summer and have to wear summer-attire when they go into businesses in the winter. It's wrong! These shouldn't be options that civilized businesses resort to -- they aren't in a civilization but since we're not civilized we need law to rein us in. Our businesses are venal unless forced to be otherwise. Anyway, in summer people should wear summerwear and in winter we should all be wearing layers. Clothes that fit the season are good. They aren't mysterious.

The basic tools of living and recreating are simple. But they do require skill. Humans are made for learning. It's no big thing. And they don't need any very special. And they're platforms for a lot of typical creativity.

Like, a bike is just the most efficient transit tool invented. So we use it. We carry stuff. It's a platform. To ride a bike in summer we wear summerwear, to ride when it's cooler out, we wear warmer stuff. If there's water without too much waves, current or wind, we use an open canoe to get around on water. If there's wind and waves we use a sailboat or kayak. If there's snow and it's not too hilly we use XC skis to glide around.

When our needs or desires get bigger than this we add to our tools. Bikes seem best for anything under 5 miles or under 50 lbs of cargo. Motors help for going farther, heavier. Same with boats. In big mountains it can be fun to occasionally get a lift up the slope then ski down. But we don't entirely extract ourselves from the fresh air or from using our bodies. And we need to think of the overhead and side effects and not get carried away.

(Check out MomentumMag.com, UrbanCyclist.com, theslowbicycle.blogspot.com, and CopenhagenCycleChic.com. Pics courtesy WildernessInquiry.org, an urban canoe day trip resource for Mnpls, and TotalWomensCycling.com.)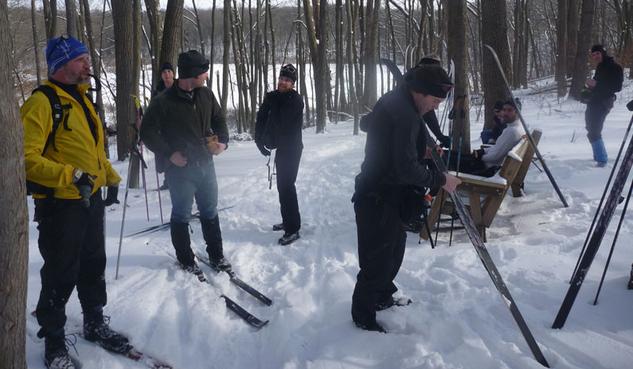 Winter bliss: a snack stop while skiing on a local hiking trail. Local glide fun is always nearby in snow country!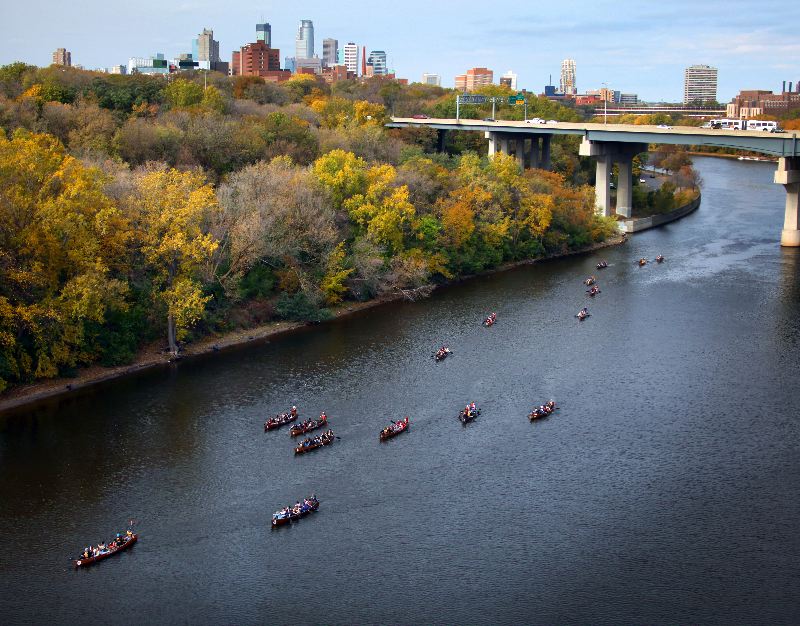 Wherever there's water there's easy access to fresh air fun. Bigger canoes are becoming popular again. Water is a very efficient way to get glide. --Ideal for carrying people and things with the least possible overhead or fuss.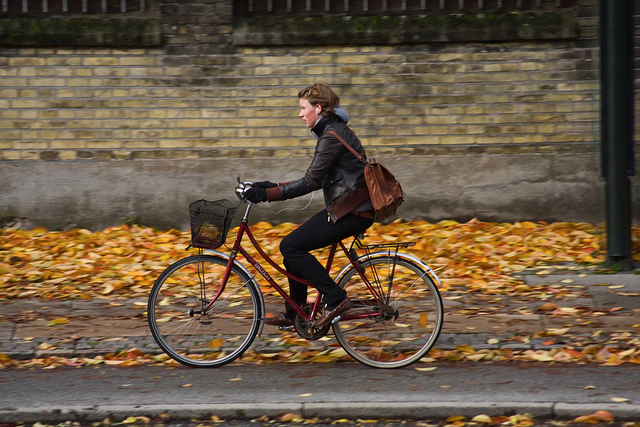 Urban biking doesn't have to look different from urban walking: you can just go farther, easier and carry more. Use lights at night: cinchy.