Raspberry Time! ...Autumn is the Season for Everbearing Berries
September 30, 2013
You know I love my berries.

Everbearing red raspberries are great for mid-Michigan. They're hardy, with few pests. I'm hard on plants. In fact, the berries are the last plant standing in one of our garden areas! They've taken over the whole thing. Need no planting. So rugged! They're kinda fun to be rough with. I treat em almost like a fruit tree.

I think I'd like grapes, too.

I've enjoyed some hops as well -- but they get a bit carried away and I forgot what types I planted. Different hops get used in different parts of brewing and for different brews. Gotta keep em straight!

I prune our berries hard to the ground each spring and the result is that they don't have the usual two modest crops each year but instead they have one huge crop in the autumn. Many people prune this type this way. So it's that time of year right now!

I'm picking a quart of berries a day from my 100 plants.

They taste so good in a bowl with half&half poured over them. So fragrant, too.

Actually, berries are part of a way of life, I suppose. It's my annual autumnal meditation, to go pick them each afternoon.

So it's the whole process: the garden and the smell of the berries not only in the house but while I'm picking. It takes about 15 minutes of pro picking to get the day's harvest. Ya gotta pick clean (if I miss any they seem to rot in just a day).

It's not only the smell -- it's the BEES. They're fading a bit now but a couple weeks ago in the early part of the harvest there were THOUSANDS of bees in the berries. Maybe 6 kinds of bees, wasps, and hornets. The plants are high and thick and my rows are (incorrectly) narrow so I'm brushing my face thru plants amid this loud "hummmmm" while I pick. And zero stings! Everybody is too busy for that, me and them. I'm talking literally thousands of bees right next to my face. All busy working, flying to and fro.

And if I pick in a cool dewy morning sometime, many of the bees are still there. Only they're asleep. Tucked up under leaves. So cute.

Then there are frogs of several kinds, including treefrogs of a couple types that I encounter on leaves as I pick. They look shy, like "You don't see me." Some are tiny, less than an inch. I see a dozen every day.

Then there are the other bugs. But only one pest bug who I do battle with, the Japanese beetle -- squish.

And other critters -- none of those eat the berries, though, so I just let em scurry through the garden while I pick.

I tell ya, raspberries are quite a sustainable crop for this area. Grows and spreads easily. There are a few tricks, tho. If you wanna know, just ask. (Once they're big, prune 'em hard to only one big plant every yard, say. And wire 'em up. They MUST have ventilation. Rake and mow the understory. Keep wild berries away. Throw rotted berries far away. After a few years existing root stock seems to get exhausted. I haven't done any mulching of my soil, tho. Probably both rootstock and soil need rejuvenation.)

I've had little luck with strawbs.

Lastly, I make a cakey custard whip-creamy desert with my berries -- Raspberry Trifle Sabayon! ...But I can't quite find the combination of recipes I use. I make it all from scratch. Including the ladyfingers. Wow!

Enjoy...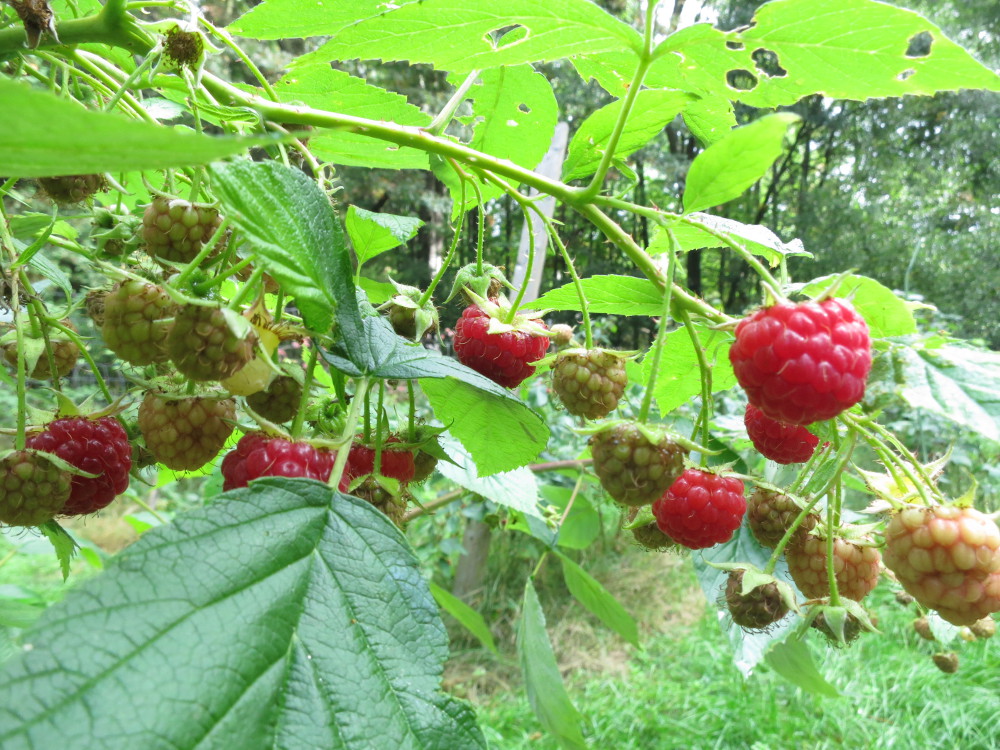 Berries...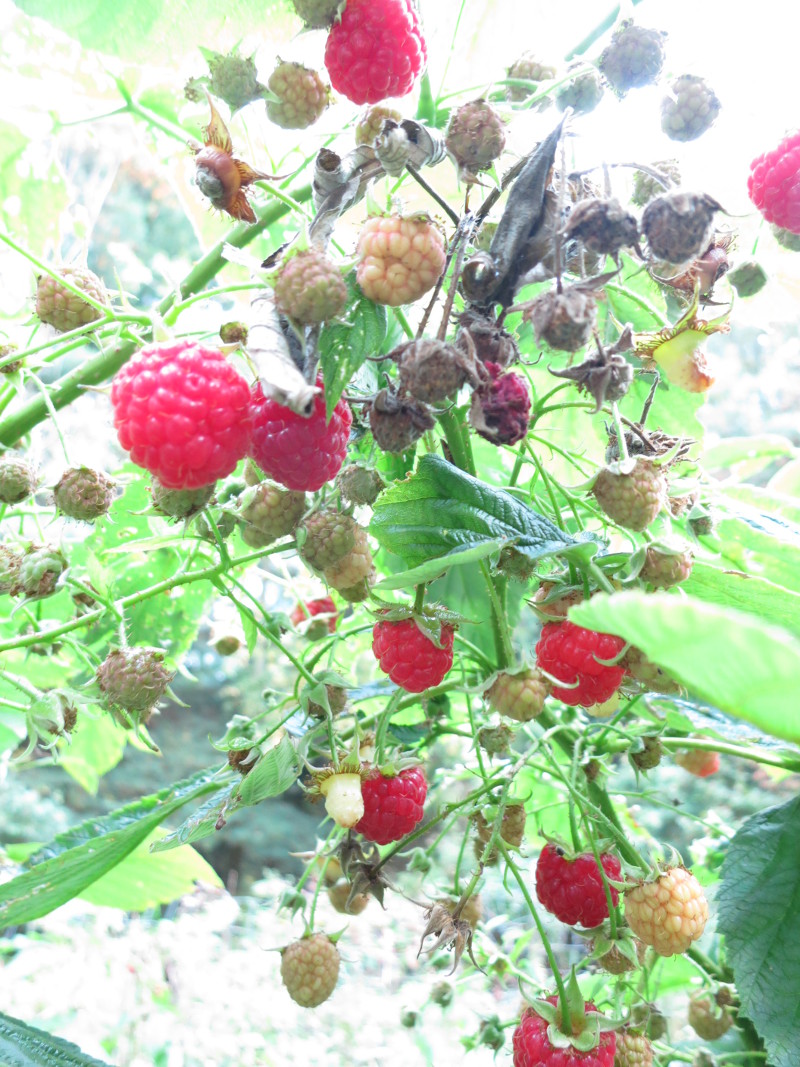 Mmmm...berries...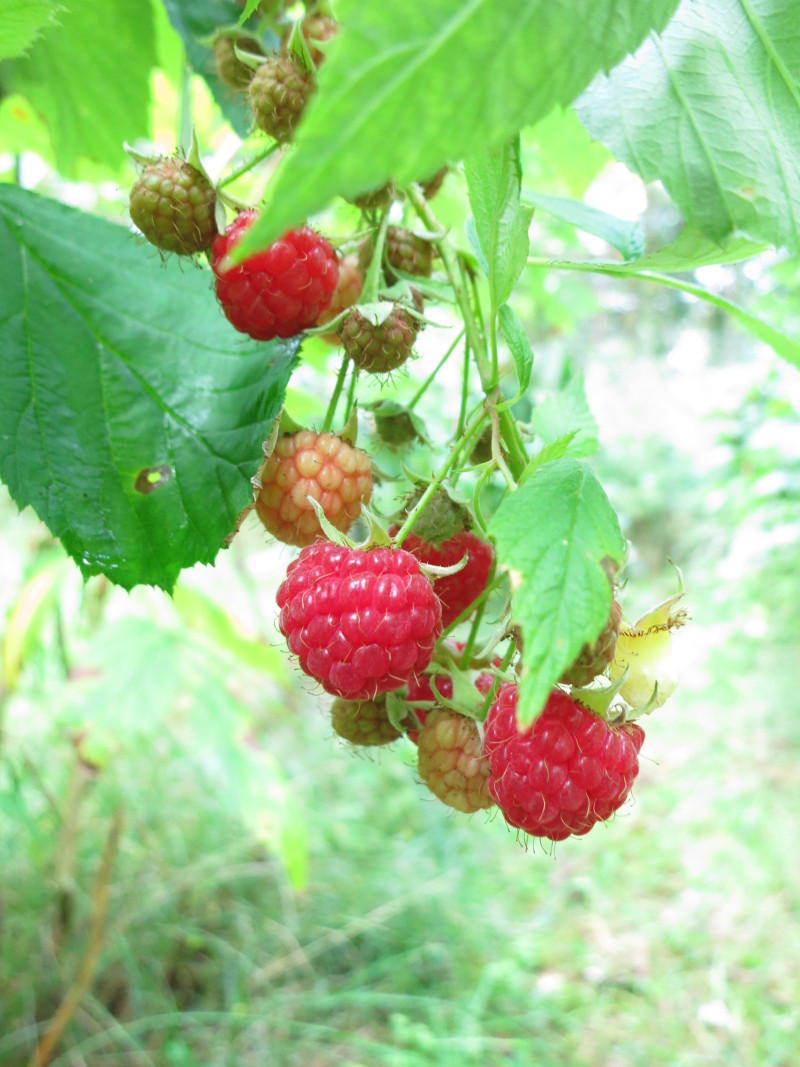 Oooh...berries...