Grandville: Where my Gramma Lived and Dad Grew Up
May 27, 2010
Here are a couple pics of old-time locations for my family.

My gramma lived her last few decades in this little house on Burton in Grandville, MI, near Grand Rapids, a mile up the hill from the big Grand River. I stayed a few days and overnights with her there. I think that dozens of the grandkids did. But one at a time. There's a nice creek next door. There was an oil well out further in the back that she got some income from. One of one of my uncle's kids kids lives there now, I think.

Before that she and the younger kids lived in a farmhouse sort of place set against a hill a bit further up the road, closer to the intersection. It's gone. That's a place I also remember, with junk back in the woods.

Before that they lived across 28th St (is that what it's called?) in a one-room place on the top of the hill amid an orchard. That's where she raised her 8 kids. That's long gone.

All 3 places on Burton.

As a teen I worked in the orchard picking peaches with the immigrants and other cousins and uncles for a couple weeks during a couple summers. Some of the uncles kept the orchard going for decades but it's mostly gone now, too. Sold off.

I just visited and took these pics. There was a small cherry orchard still up there. I saw an oil pump with her family name "Peck" on it.

My grampa died young when my dad was in his teens. Nowadays it seems likely that their family would've been broken up into foster homes, as there wasn't much money and gramma didn't do too well under the stress. A local church acted as missionary service to those wild riverbend kids (and helped them stay together). My mom went to that church and marveled at the creatures the Sunday school van brought in from the woods... The kids all grew up into contributing folks -- 3 firemen, a cop, a railroad derailment foreman, a preacher, a professor and a housewife. They were raised on fish, game, horses and gardens. One kid escaped the area early on and never touched nature again if he could help it. The rest kept up the outdoor life like they never left the woodsy shack. A couple more moved away later -- to even wilder places. I still have probably 30+ first cousins around there.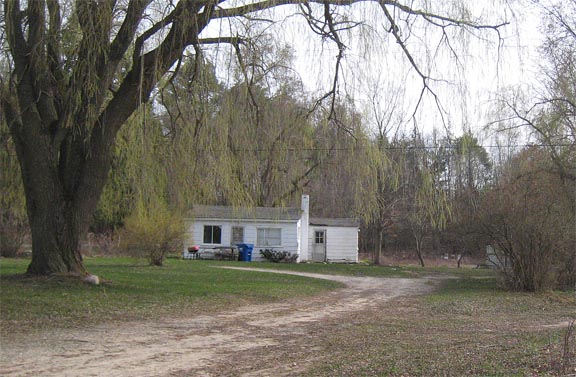 Gramma Potter's little house. I first saw a couple "novels" there as a kid, maybe it was even "Tom Sawyer"! (I still have that old edition.)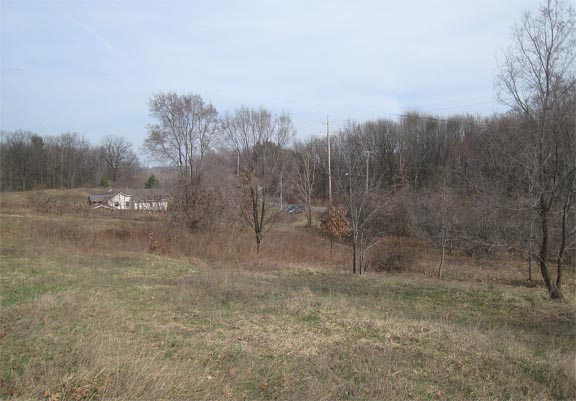 The empty hill where Gramma's one-room, kid-filled shack once stood, overlooking the "riverbend" area of the Grand River in Grandville. A peach orchard used to be here, too, that I picked in as a kid.