My 5th Grade Field Trip to the Henry Ford Museum
May 20, 2009
Last week I helped chaperone Henry's 5th grade two-day field trip to the Henry Ford Museum and Greenfield Village.

We had a great time. There were 41 kids, 17 parents, 2 teachers and a student teacher. An easy ratio. Parents like these places, too. Although when the deadline was approaching there weren't many parents and an emergency message went out...and several responded, then there were too many parents, but too much is never enough. Two parents each oversaw a pod of six kids.

I'm sure I also went to the HF Museums when I was a kid, but that was so long ago. I remember remembering it up until maybe 20 years ago... : )

What I do remember is what this school district did for 5th graders back in my day (our kids go to my same old school). We did a long weekend winter camping trip! We stayed in cabins and learned outdoor winter skills during the day. It was the first time I learned about XC skiing, snowshoeing, animal-tracking, live-trapping (of mice) and ice fishing. I was in hog-heaven and went nuts. I haven't gotten over it yet! Ron Bacon---a dynamic Robert Conrad look-alike---was the instructor behind it all. Thanks, Ron! The schools kept it up for decades, only finally letting the Winter Trip go when finally no teacher could be found to honcho it. This HF Trip is the new 5th Grade Special.

This time I got a chance to see good teacher skills in action when the stress was building. When Henry and his pal were getting wild in an olde tyme workshop my approach was to tell them they'd get split up if they didn't shape up, but a teacher got them back into a quality mindset by giving them an educational challenge (rather than a threat): brilliant! It was to find as many examples of levers and pulleys as they could then report back to her. If they had enough examples they'd get some kind of classroom credit.

I get inspired at museums.

The Henry Ford is an old place with an amazing pedigree. That Henry Ford was something. It's neat spending the *night in a museum.* !!! It's also home to a school so we stayed in two big dorm rooms behind the scenes. It was neat wandering the 100-year-old halls. The staffers even let us into the museum before it was open so we had it all to ourselves.

We'd been having weeks of cold, rainy weather. For our visit we had two perfectly clear days. It was that kind of trip.

It was cute seeing Henry in action. He's tall and growing fast, getting strong...and has about twice the energy he had last fall. He can be eye-spinning frisky but thankfully he can also rein it in.

The kids were great. So diverse. A little rainbow. Some were a handful on occasion, but manageable. (Someone's dad possibly added to the mayhem by teaching kids how to blow the hand-horn and grass-flute.)

It was neat hanging out with the parents and teachers, too. Nice people.

This place is a worldclass museum of technology and its impact on culture combined with a worldclass living history village. A double whammy of inspiration!

So here's a report of my time there. It's not meant to be an objective overview, just my take on what stood out to me.

For instance, I'd really like to take a meal at the Eagle Tavern in the Village someday. It serves 1800's fare and beverages, including Cock-Tails, Punch and Claret. Mint Juleps were also on the menu. There was even some food. For $50 a head they serve an authentic Christmas dinner at that time of year. I bet it's good!

Throughout the whole place displays keep reminding us of the background of Henry Ford setting it all up while he was still in full action. Every dozen exhibits or so one features some angle on how the museum came to be. It's neat to get that kind of setting for the museum itself.

I think it's also neat how highly Henry Ford regarded Thomas Edison. Ford basically sanctified Edison, preserving as many vestiges of him as he could.

I also like how Ford said "History is bunk!" Meaning, it's just the story that the current guy in charge is laying on us as he quashes the stories of his enemies. Ford believed in the artifacts of everyday people and set up his museum to show them and let us draw our own conclusions.

We almost missed seeing Edison's lab. It was the last place we visited in the Village. It's amazing. Everything is kept as it was. They have his 100 yards of shelves of chemicals and materials used in testing, including the rocks they pulverized to make minerals for coating filaments. In Edison's day scientists knew you could make filament glow but it wouldn't last. The viability of a light bulb was thought as likely as time travel is today. It was impossible, crazy. The rig they used for testing is still set up. The guide says that when the carbon coated string finally stayed glowing, all the technicians gathered around it and stayed watching it all night long. It was a miracle. Of human ingenuity and stubbornness.

There was a pipe organ at the back of the lab. Word is that when they were getting tired during some long night of testing, Edison would say Time for a break! And they'd go to the back and play the organ and sing songs. When he snapped his suspenders that meant it was time to get back at it.

For the 50th anniversary of electric light, Ford had Edison come to his lab in its new location at the Village to give a radio broadcast. He sat down at his device and at his word everyone in the USA turned off their lights. It was dark. Then Edison threw the switch on his tester and everyone turned their lights back on. What a moment!

Of course, it's what we DO with our gifts that counts. I'm still impressed by the writings of St. Theresa---she mentions her life by candlelight amid insights which are still as powerful as anything written since. Plato isn't bad either.

What Henry Ford did on that 50th anniversary is kind of cute. When Edison left his lab again, Ford said No one else is ever going to sit in that chair again and he had his workers nail it to the floor next to the bulb tester. The guide told us that to his knowledge no one has ever sat in it again. ...There it stands. No ropes around it. Just a chair. An everyday artifact.

There's also supposedly on display a bottle of Edison's last breath, which Ford also collected.

My gosh!

I didn't see that one.

Lincoln's chair is there, too. Blood-stained.

Washington's folding camp bed and mess kit.

Rosa Parks's restored bus. It was discovered in a ravine. Supposedly a guy knew it was her bus and bought it and dismantled it and used it as a tool-shed until recently when he put it up for auction.

Well, I'll only list what really stood out to me. Things strike me the most when they give me ideas about what I want to do. But some things I do just enjoy and marvel at.

Here goes...

*The first thing I saw upon entering was a HUGE black steam locomotive. It was like 30 yards long and 30 feet tall as it towered over us mere mortals. What scale!

*The Dymaxion House. Bucky Fuller's place circular suspended house. It took 10 men 2 days to set it up. Today it would probably take 2 men 2 days. To give a lovely 1000 ft2 house with 360-degree views. The structure was based on cable supports suspended from a center mast. (It had our furniture! ...Heywood Wakefield Blond.

*Photo of Dymaxion Car. Why isn't one on display? Do any exist? What a car!

*The VW Camper Van with built-in plywood camping set-up.

*10-man tandem bike hanging from ceiling.

*Wood-frame bike with long-pointed stamped lugs to reduce stress on the wood. I'm thinking Osage...

*Normal bike with kicker motor on the side bolted to the chainstay and seatstay. Hmmm... there's a way to turn any bike into a moped, eh?

*The 1st aerodynamic airplane. A mono-wing in the era of biplanes. Even its fuselage was shaped like a teardrop. Its wheels retracted. It looked space-age.

*A 1940's diner. Compact. Bigger than a train dining car but not much more. Granite counter, mahogany booths, tile floor. Everything ready for action for a short-order cook. Gorgeous. These things should be built again!


LESSONS LEARNED:

*The Dymaxion House failed due to lack of financial backing. (Probably the fate of the car, too.) Where is the venture capital system when ya need it?

*The aerodynamic mono-wing plane probably also failed due to lack of financial backing, delaying the development of modern air travel by how long? It was built and used in one race. It was winning when a cable broke and it had to drop out. It never flew again. Mothballed.

*Near misses for big dreams!


PERSONAL INSPIRATION:

*Get organized! My personal space, shop, garage and inventory/shipping center is highly functional. It works. It's quite organized, given its complexity. But it needs to be better organized and maintained. The proper standard for organization is if someone new could drop in and know where everything is. And if there's nothing useless around. Even junk can be useful if it's sorted and stored where it can be found if needed. That is, even good spare parts are junk if they can't be found. I'm about 2/3's there. Still missing a critical third. The "no time" third.

*Seeing all the records on display makes me wonder if there are any records that I could ever set, but not just any record, it would have to be relevant, the PR from it would have to be of wide benefit. And it would have to be low-hanging fruit. It would have to be a record that an average guy like me could set. Oh, I thought of one! : ) ...The Self-Supported Trans-USA bike record. It now stands at an apocryphal 14 days from 1958. I'm thinking that I could use technology to set a new record with ease. I'm thinking of a 30-pound faired suspended recumbent carrying about 15 lbs of ultralight touring equipment. Such a bike could easily average 25mph (cruise at 30mph) and shelter a rider from wind, sun, rain, road vibration/bumps fatigue and give safety in case of a crash. It's OK in such records to eat at restaurants and stay at motels. I'd only bring bivvy gear. Ideally, it would be done using the Buddy System, with another rider. The bikes would have high-tech ultralight media hookups: intercom, Blackberries, voice activation, helmet cams, a live blog. Sounds like fun! It would even be darn cheap compared to participating in RAAM. The benefits would be a huge PR boon for faired recumbents as efficient daily use vehicles. Right now they're considered heavy, slow and unstable. And the exotic race bikes never carry cargo nor are they used for utility. This event would show that HPVs can be fast, safe, and useful.

*I'm also inspired to finish a particular innovative project of a smaller scale: my canoe bike trailer. I've seen the range of these developed so far and they all seem too complex, heavy and slow. I have my own idea! I'm going to create a jiffy mount for the stern of a kevlar C1. It'll be a bike fork that two 1" eye-screws mounted to the stern drop over. A light wheel goes in the fork. An aluminum pole (my canoe pole!) is lashed to the thwarts to protrude beyond the bow. The end of the pole is lashed to the bike seatpost. The bike is ideally a 21-lb Dahon Helios folder ($600, circa early model). I think that such a rig could be used for touring, where the luggage is stowed in the canoe. The bike goes in the canoe when not being used for towing. Soon!

*Easiest inspiration of all to make happen: I'm going to check out the movie "American Graffiti."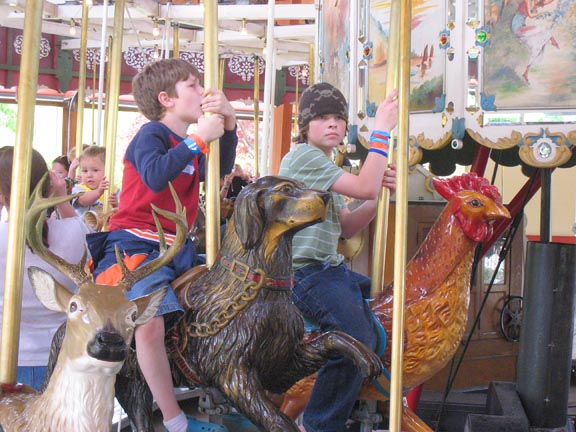 The 95-year-old carousel. (Neat how a carousel is suspended by cables from a center mast...just like the Dymaxion house! I wonder if Bucky ever noticed that...)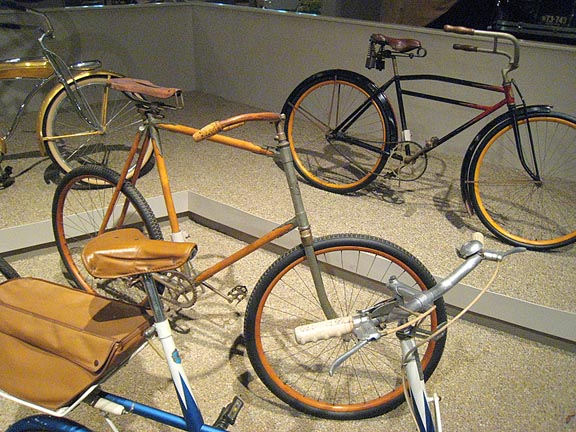 Wood-framed bike.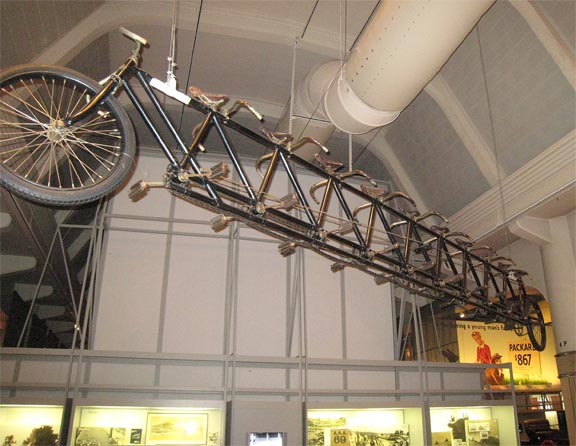 10-man tandem.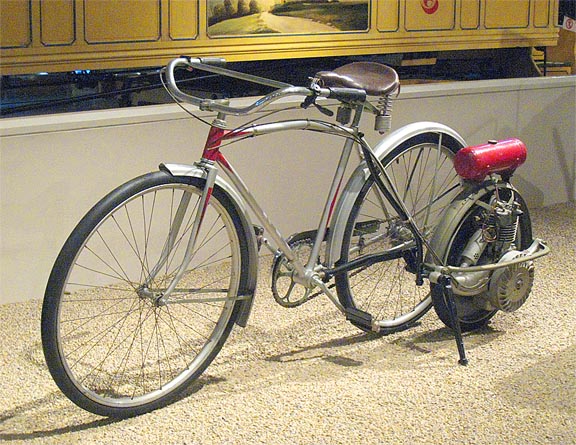 Sidehack strap-on kicker motor.

Quite an expedition car, from a tour of the Americas.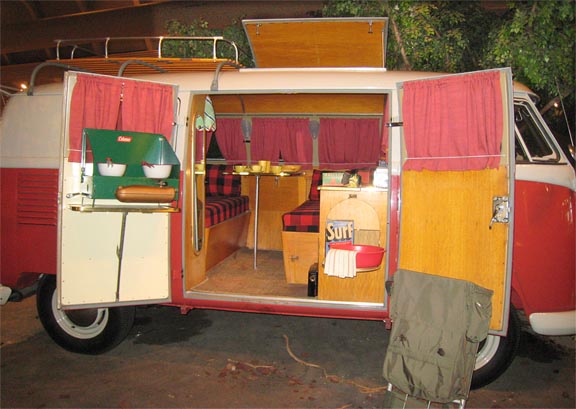 Oh, what a Camper Van!

An extra-aerodynamic mono-wing airplane...from the age of biplanes. Ahead of its time!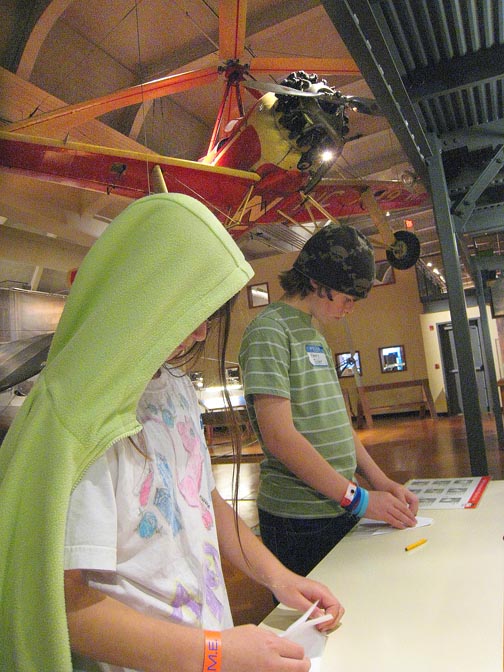 Making paper airplanes at the hands-on exhibit beneath a helicopter display. (A heli with wings? Amazing!)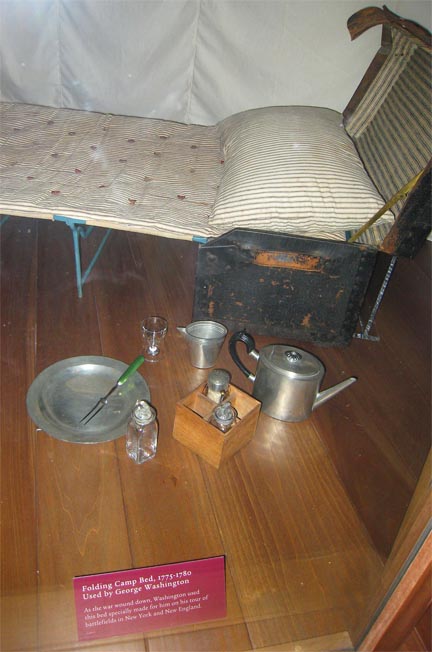 The bed George Washington slept in near the end of the Revolutionary War. Mess kit he ate from.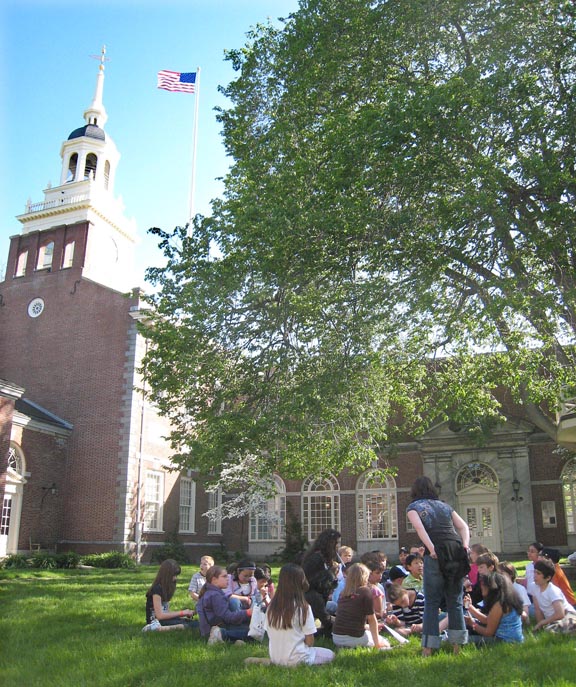 Kids in a museum courtyard, after they ran in circles for a half hour unwinding.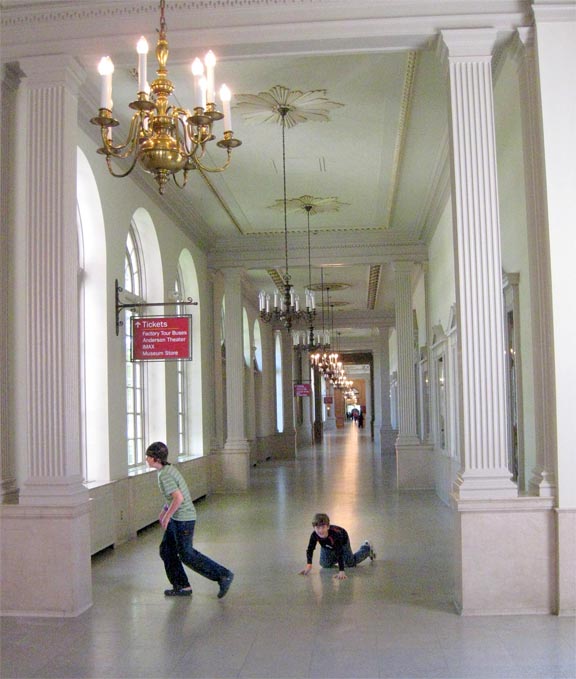 Kids in the Hall.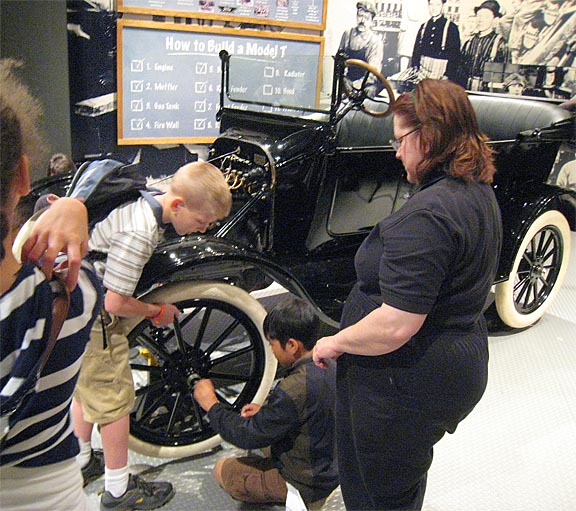 Every morning the parts of a Model T are loaded into this exhibit and guides show people how to put the parts onto it during the day. By the end of the day, the car is finished. A real car.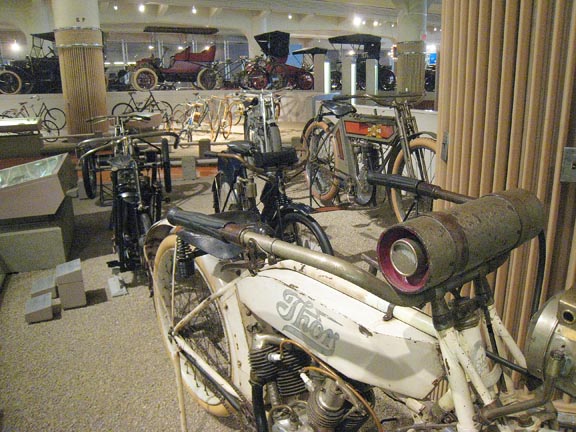 Motorcycles. Bikes. Cars.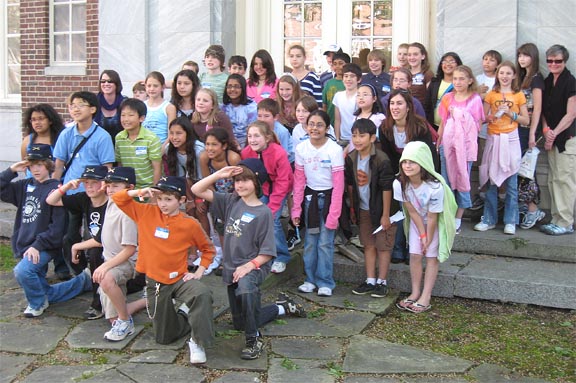 All the kids. And teachers.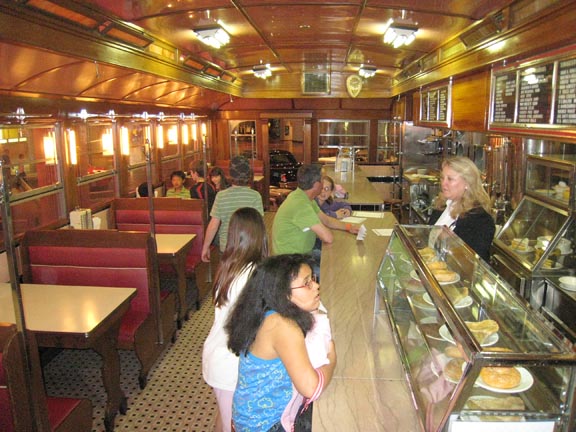 A good place to eat, back then.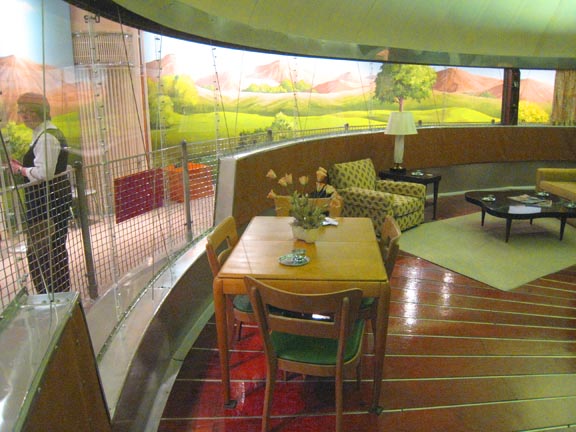 Dymaxion living room. (Our furniture!)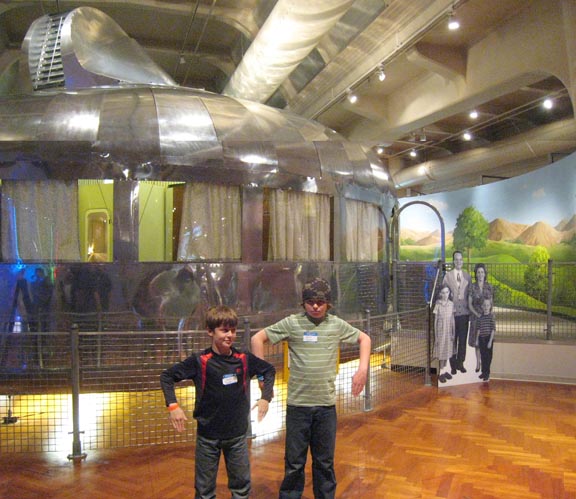 Dymaxion House!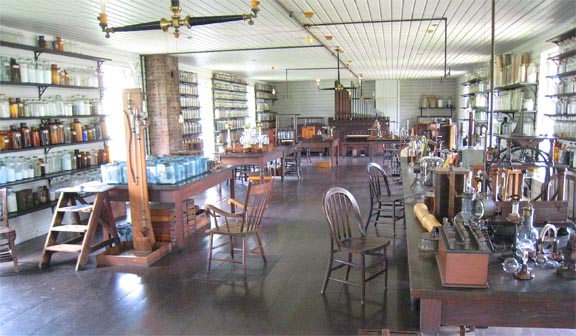 Edison's lab. (His chair has arms, in the center area.)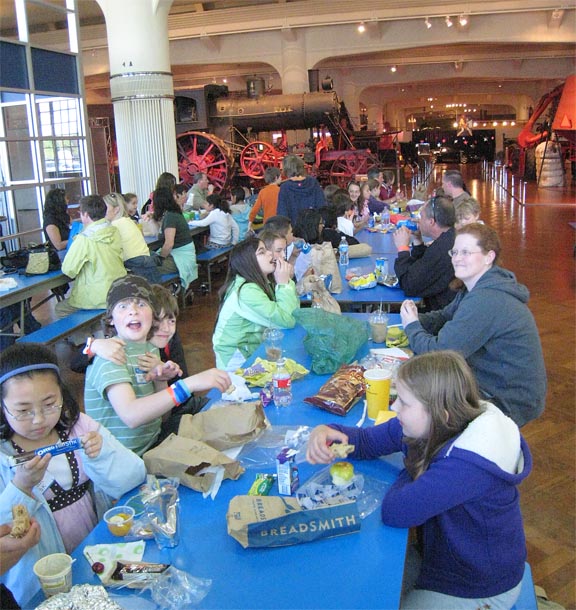 We start things off with LUNCH!